Whole Foods, Raw Foods, and Fermentation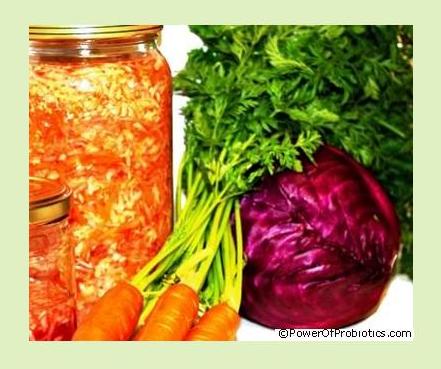 Consuming raw, whole foods and drinks that undergo natural fermentation is one of the best ways for you to be healthy. And no, this doesn't mean that beer, wine and alcoholic drinks are the tickets to health! Those are fermented to the point of having too much alcohol in them to be healthy.
What I mean by raw, whole foods are foods that look like they were just picked off the tree, vine or plant stem, or dug up as a root of a plant. Like the ones you would find in vegetable and fruit gardens, at a farmer's market stand, or in the fresh produce section of your grocery store or supermarket.
Raw – meaning not processed and pasteurized. Most raw organic fruits and vegetables by their very nature already have the bacteria and yeasts needed to ferment themselves on their surfaces, and guess what? Some of those bacteria and yeasts are classified as probiotic microbes.
Why eat whole foods? Whole foods have the complete nutrients of the food. For example, an apple has fiber, vitamins, minerals and phytonutrients (plant compounds). An apple is a whole food. Apple juice is not a whole food. It is basically sugar water and manufacturers add vitamins back into it.
Brown rice is a whole food. White rice is not. Oatmeal is a whole food. Cheerios is not.
While all the nutrients in whole foods are important for health, fiber deserves special recognition. See why here.

To Buy, Or Not To Buy?
You can buy naturally-fermented foods and drinks from a store, but making these fermented products at home is even better for saving money. And by making them at home, you're getting the full-spectrum of beneficial microbes.
Any store-bought, shelf-stable, and long-life refrigerated fermented product is going to have some types of the microbes killed off in order to keep the jar or bottle from exploding, unless the product is truly raw and they don't jar it until after the major gas -producing microbes are replaced by others.
However, click here if you would like to see options to buy raw, organic, gluten-free sauerkraut and cultured vegetables that still have live, beneficial microbes and their products in them.
Yogurt, kefir, kimchi, sauerkraut and kombucha are easy to make at home once you know how, and the added bonus is that your body will recognize them as nutrition because they are "real" foods and drinks. If you can't make them at home, you can still be a smart shopper and get the most from your money by following the advice in this website.
You can also browse through reader's favorite foods with probiotics and favorite probiotic drinks and get some tips and suggestions.
Of course, if there's any question about whether or not you should eat, drink or use probiotic products, please check with your doctor.
Naturally Fermented Foods and Drinks
Here are some foods and drinks which may naturally contain probiotics or beneficial substances from good microbes which, technically, are not true probiotics (not all of these are whole foods, however):
Yogurt (Homemade, Activia)

Kimchi
Cheese
Sourdough bread

Miso
Natto
Some Pickles
Some olives

Tempeh
Raw milk
True buttermilk
Raw apple cider vinegar
Choosing from the list above, it's easy to consume raw whole foods and drinks that undergo natural fermentation to be healthy.
---
Go to Where to Buy Raw Sauerkraut and Cultured Vegetables page.

---
Please, provide a link to this website or share the pages. I provide original, informative content for my readers and you should do the same.

Thanks for visiting this site! If you've enjoyed reading this page or have found the information to be useful to you, please "like", tweet about it, or share it so others can benefit, too.
Sometimes Facebook takes a few seconds for Facebook commenting to load on mobile devices OR Facebook temporarily does not allow comments on a page. If this happens to you, I apologize in advance. Waiting a few seconds or commenting on other pages may work just fine. Thanks for your understanding!

Comment with Disqus (including as a guest), Twitter or Google accounts:

If you are one of my many readers without a Facebook account, you can still comment.

---
Disclaimer: The information contained in this site is educational in nature and is not intended as diagnosis, treatment, prescription or cure for any physical or mental disease, nor is it intended as a substitute for regular medical care. Consult with your doctor regarding any health or medical concerns you may have.