Is A Food Processor a Luxury Item ?

If you think a food processor is an unnecessary luxury appliance, especially when making sauerkraut, keep reading because I just may change your mind. It makes life easier, and makes the sauerkraut better, and I have a recommendation of one (or two) for you to help you make the best choice.
I always use my food processor when making sauerkraut. It shreds the cabbage (and carrots, apples, or whatever else I'm using) into pieces that are more uniform in size than I could ever chop. Uniform size is important when fermenting vegetables, because you want everything to culture at the same pace so that the kraut is crunchy throughout, not mushy in parts and hard-as-can-be in others.

Also, this appliance makes the work super-duper fast. I understand that some people may think that chopping vegetables is therapeutic, and I agree, but when I have a lot to do (like when cooking for 5 or more), all that excess time in the kitchen shredding and chopping takes away from time I could be using to make the rest of the meal from scratch and enjoy it with my family.
What's the Best Food Processor?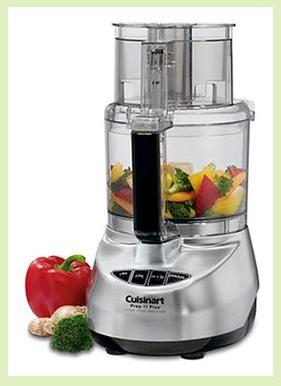 In my opinion, the best food processor is a Cuisinart. I have had my Cuisinart (model DLC-2011N) for many years and I use it many times per week. My model is discontinued now, but the newest model,
Cuisinart Prep 11 Plus at Amazon.com
and at
Amazon Canada
looks like a similar machine and it has positive reviews. This 11-cup size has worked well for my family of five.
It also comes in a 9-cup model, at Amazon.com as the Prep 9 and at Amazon Canada as the Prep 9 Plus.
I like the wide-mouth feed tube, with the smaller tube nested inside, so I can stack narrower foods like carrots upright in either the wide or small tube, depending on how many I'm processing, and push only that amount through.
Also, the extra-large feed tube allows slicing of whole fruits and vegetables, saving me time in preparing the food for processing.
The motor is strong and consistent, and the cutting blade is really sharp!
Both Cuisinart food processors come with:
BPA-free work bowls
One-piece Supreme® wide mouth feed tube holds whole fruits and vegetables
Touchpad fingertip controls
Stainless steel medium slicing disc (4 mm)
Stainless steel shredding disc
Chopping/mixing blade
Metal dough blade

Small and large pushers
Detachable disc stem
Spatula
How-to DVD
Instruction/Recipe book
Full 10-year motor warranty (the longest in the industry, according to them)
Limited 3-year warranty on entire unit
The 2 food processors are very similar, but the Prep 11 Plus has a touchpad dough control which adjusts the motor speed automatically to make proper dough consistency. (That's why the control pads are different).

The 11-cup machine weighs 17.5 pounds and is 7.00" x 9.50" x 13.00".
The 9-cup machine weighs 15.7 pounds and is 10.13" x 7.75" x 14.75"
What Can a Food Processor Do?

A food processor makes it easy to shred cabbage and other vegetables for sauerkraut and its variations. It also simplifies the process of slicing, chopping, julienne-ing, mixing, grinding and pureeing all kinds of foods.

Over the years, I've used my food processor to perform all kinds of tasks. A few I can think of in 5 seconds are:
Make gluten-free dough for breads, rolls and cookies
Make 'regular' dough for breads, rolls and cookies (before I found out I had to be gluten free)
Chop all kinds of vegetables, fruits, spices and herbs
Make appetizers such as hummus, dips, applesauce, etc.
Make homemade baked sweet potato fries (much healthier and much tastier than regular fries). I bought a French-fry blade for this.

Shred beets, carrots, cabbage, and other vegetables and fruits for raw salads and slaws and for cultured vegetables like sauerkraut
Chop and finely grind nuts
Julienne (cut like toothpicks) squash and carrots for stir fries
What Do Product Reviews Say?
Here are some excerpts from reviews of these Cuisinart food processors from the now-closed ChefsCatalog:

"I received the 9-cup model for Christmas and have used it for everything I can think of since then! Given that it comes with multiple attachments, you can use it to prepare a variety of foods without any additional investment.
After using a magic bullet to make hummus for the past couple of years - I was AMAZED the first time I used my Cuisinart food processor... I went from chickpeas to hummus in about 5 seconds flat! Anyone without one of these is missing out!."
"...I'm happy with my choice. It is heavy so it doesn't "walk" on the counter, small enough to fit into my appliance garage, and simple to change discs/blades. Everything goes in to the dishwasher. I also bought the container to store the accessories, and I am very pleased with the whole thing. Highly recommend it. "
"This item does everything I need it to and more; I bought it to grate cheese and zucchini and dice tomatoes and peppers. Now I use it for everything, and have made space for it as a permanent member on the counter. For having a small apartment, that says a lot!"

"

For years I have been using low-cost food processors purchased at local retail stores. Although they worked without problems they seemed more tedious than helpful to use and I found that I'd wind up bypassing their use and preparing my foods by hand. I hemmed and hawwed about buying a better quality one due to the cost. But I finally decided to purchase this Cuisinart and all I can say is 'Why did I wait so long?' because this appliance is awesome. The motor power is incredible and also quiet. Slicing and chopping takes only seconds. All parts are very easy to put on and take off (I had to struggle with my previous processors) and cleaning is simple. The lexan bowl and lid is high quality and sturdy.

I am so happy to have bought this

. Cuisinart appliances have always been a favorite of mine and this one sure is!

"
"I have always had a cusinart food processor since getting married in the 70's. They last forever- this workhorse I bought after 30 years is the best! I make pizza dough weekly- I grind up organic meat and vegetables for my elderly dog each week- I make bread almost daily with this "awesome machine". I also use the tools to slice and or dice different cheeses- One of the most fun things to make is herb butters and pesto sauce- its a snap. I cannot reccomend this machine enough. It is the only one that never leaves my kitchen counter. I even bought a second one for a mountain house we own."
"This is the best. Easy clean up and easy to use. Makes cooking that much easier with the chopping and slicing that it does. Great buy."
| | |
| --- | --- |
| | Cuisinart also has a Cuisinart DLC-2ABC Mini Prep Plus 3-Cup Food Processor that is a great appliance for smaller jobs. It is available from Amazon.com or Amazon Canada. |
---
Return to sauerkraut video.
---

Thanks for visiting this site! If you've enjoyed reading this page or have found the information to be useful to you, please "like", tweet about it, or share it so others can benefit, too.
Sometimes Facebook takes a few seconds for Facebook commenting to load on mobile devices OR Facebook temporarily does not allow comments on a page. If this happens to you, I apologize in advance. Waiting a few seconds or commenting on other pages may work just fine. Thanks for your understanding!

Comment with Disqus (including as a guest), Twitter or Google accounts:

If you are one of my many readers without a Facebook account, you can still comment.

---
Disclaimer: The information contained in this site is educational in nature and is not intended as diagnosis, treatment, prescription or cure for any physical or mental disease, nor is it intended as a substitute for regular medical care. Consult with your doctor regarding any health or medical concerns you may have.