The Power of Probiotics

---
Why bother with probiotics? As a savvy consumer reading health information, you want to know if these things matter in order for you to be healthy, or if you are being scammed by marketers. Believe me, they really are powerful (as the website name suggests!), and without them, you could not live for very long!
To have them work for you to be healthy, or even be healthier, you have to know a little bit about what you are doing.
Explore this resource for your answers and please contact me with your questions or comments via commenting on the site, Facebook, Twitter or my contact page.
How To Get Started with Probiotics

Probiotics are officially defined as, "Live organisms that, when administered in adequate amounts, confer a health benefit on the host" by the Food and Agriculture Organization (FAO) of the United Nations. This seems like a simple definition; just pop a pill with some good bugs in it and you will see benefits.
But wait! There is a lot more than meets the eye in that definition. This site will help you understand the answers to questions of who, what, when, where, why and how about taking these beneficial live organisms so you can make decisions for better health. You will appreciate that they fit into the bigger picture of your microbiome, the collection of microbes on you.

Much information has been learned about the microbiome and its influence on health from The Human Microbiome Project and other research projects around the globe. Many new research findings are published daily making the study of the microbiome fascinating and ever-changing. (That's why I love it!) The microbiome affects us, and things we do affect it. Even the roles of beneficial, neutral, opportunistic and pathogenic microbes are intertwined so that neither operates in a vacuum within or on us.
While nearly every website publishes articles about these beneficial microbes, PowerOfProbiotics.com is unique in that the content is extensively researched and delivered in the context of how the microbiome and probiotics impact each other, gut health and overall health, and how our diets and lifestyles affect all of them. You will see how and why they can impact so many health conditions, and learn things you can do and should stop doing.
Start with the page below and then explore the other options under the tabs at the top of the page. Check out my books as great resources, too.

Flora, beneficial microbes and the microbiome
The meaning and importance of CFU's
and much more useful information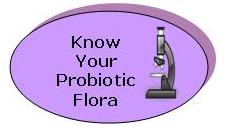 Books

Other Popular Topics:
---
Subscribe to Newsletter


To comply with the EU's GDPR data privacy regulation, please subscribe here:

Thanks for visiting this site! If you've enjoyed reading this page or have found the information to be useful to you, please "like", tweet about it, or share it so others can benefit, too. You can leave comments below via Facebook or Disqus.

Comment with Disqus (including as a guest), Twitter or Google accounts:

If you are one of my many readers without a Facebook account, you can still comment.

---
Disclaimer: Please note: By law, I cannot provide any personalized recommendations for your specific health concern on this site. The information contained in this site is educational in nature and is not intended as diagnosis, treatment, prescription or cure for any physical or mental disease, nor is it intended as a substitute for regular medical care. Consult with your doctor regarding any health or medical concerns you may have.