Intestinal Flora, The Microbiome and Probiotics

| | |
| --- | --- |
| | Knowing information about intestinal flora, the microbiome and probiotics will save you time, save you money and reduce your stress level when faced with probiotic buying decisions. |
Let's say you are at the checkout counter of your local grocery store, and the person in front of you is chatting with the cashier about the latest Super Yummy Yogurt that has transformed her life. You start to panic, because Super Yummy Yogurt isn't in your shopping cart!!! Should you lose your place in the checkout line, run to the yogurt display and buy it?
The answer is, "No." Breathe, write down the name of the product or make a mental note of it, and then allow yourself more time during your next shopping trip to read the product label and find out what probiotics (and other ingredients) are in it. This site has reviews of probiotic products and recommendations of what to buy.

What is Intestinal Flora?
Intestinal flora generally means all the microbes [the bacteria, fungi (including yeasts), protists, archaea and even viruses] that live in your intestines. You also have skin flora on the outside of your body. Many scientists prefer to call flora "microbiota" or "microbiome".
Your intestinal flora has the capability, for good or for bad, to directly influence your digestive system, nervous system, immune system and endocrine system, which then can affect other systems in your body. This gastrointestinal (GI) microbiome can also indirectly affect body parts outside of the gut.
Probiotics are part of your microbiome. They are the helpful bacteria and yeasts that work in concert with your body to promote health. They, too, can influence parts of your body in and beyond your GI tract. If you find that hard to believe, then browse through the health conditions page and check out my book, Probiotics for Health. That book shows how probiotics, and which ones, can provide benefits in at least 100 conditions.

Some intestinal flora are usually good or beneficial. Some are usually neutral (not good and not bad), some will take advantage of you when your immune system is stressed, and some (think E. coli H0157:H7 and food poisoning) can be downright harmful or pathogenic. Even some of the usually good or usually neutral players can be harmful if they end up in places in your body where they don't belong, such as can happen with a "leaky gut". Also, if the neutral players aren't kept under control where they normally hang out, their teams can run wild and cause harm.
You can imagine your intestinal flora as villages of microbial societies.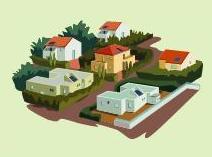 Power of Probiotics deals (mostly) with the good bacteria and yeasts. Some of these beneficial microbes are officially classified as probiotics: they are "live organisms, that when administered in adequate amounts, confer a health benefit on the host" as you read on the homepage of this site. So, some probiotics may be part of your beneficial microbiota, but not all beneficial microbes are officially classified as "probiotics."
More Information about Intestinal Flora, Microbiome and Probiotics

As I mentioned on the homepage, the definition of probiotics is more complicated than it seems, and the use of probiotics is not as simple as popping a supplement. Oral probiotics are part of your intestinal microbiome, which is a dynamic environment with many players and circumstances. There are many players that research has yet to identify, not alone understand. How probiotics fit into your microbiome determines how you will respond to them and they will respond to you.
I highly recommend that your start or continue your journey with probiotics by reading my book, "Probiotics: How to Use Them to Your Advantage." This book explains concepts about your microbiome and probiotics and gives you perspective and practical information you can use to improve your health including:
How to understand what probiotic names mean
How to choose probiotics
How to read probiotic product labels and why that's important
How and when to take probiotics

Why you probably don't have enough beneficial microbes like probiotics and what to do about it
Things you need to stop doing and things you need to do

Easy and delicious recipes.
You really can use probiotics to your advantage and the book tells you how.

One of the most common questions I get is, "Why take probiotics?" Read this page to find out the answer.
The Major Probiotics in Your Intestinal Flora

To learn more about probiotics and the major probiotics in your intestinal microbiome, please see this page.

I research studies and share my clinical experience to write this free site to help you find solutions to your problems. As part of that, I recommend products and services that I genuinely believe will be of help to you. If you click on a link to a product/service, I may receive a small commission to support my efforts if you buy something. The item does not cost you more.

Thanks for visiting this site! If you've enjoyed reading this page or have found the information to be useful to you, please "like", tweet about it, or share it so others can benefit, too. You can leave comments below via Facebook or Disqus.

Comment with Disqus (including as a guest), Twitter or Google accounts:

If you are one of my many readers without a Facebook account, you can still comment.

---
Disclaimer: Please note: By law, I cannot provide any personalized recommendations for your specific health concern on this site. The information contained in this site is educational in nature and is not intended as diagnosis, treatment, prescription or cure for any physical or mental disease, nor is it intended as a substitute for regular medical care. Consult with your doctor regarding any health or medical concerns you may have.