Saccharomyces boulardii -
The Special Forces Probiotic
| | |
| --- | --- |
| | Saccharomyces boulardii is a true probiotic yeast superstar, the special forces probiotic of the probiotic world. It has potent beneficial effects on your body, without the risks associated with some other probiotics. |
It is not a yeast to be afraid of, unless you're allergic to yeast, of course. Precautions have to be taken if you have any type of catheter, port or IV, or are immune-compromised, but if that situation applies to you, then please check with your doctor before using any probiotics.
Side effects of thirst and constipation are rare and insignificant in healthy individuals and last only a few days. Diarrhea may occur as the population of your flora changes.
This probiotic yeast used to be known as a separate species from Saccharomyces cerevisiae, but researchers now say that boulardii is very similar to cerevisiae, so it is a strain of cerevisiae. That would make the technical name for it Saccharomyces cerevisiae strain (or "variant" as it is sometimes called) boulardii. But since you will see S. boulardii on product labels, that's what I use here.
The Benefits of Saccharomyces boulardii
This probiotic is so amazing and has hundreds of studies utilizing it! I am so in awe of it that to give it the full appreciation it deserves, I wrote an entire book about it!

"Saccharomyces boulardii - The Special Forces Probiotic" in a new, updated 2020 edition, is now available for purchase!

 Inside this book you will find a wealth of information from over 370 studies and articles, with details of the studies as well as summaries that are easy to understand. You will know the exact strains and dosages of S. boulardii that were used for 32 different circumstances or conditions, the results, my perspective and/or the positions of professional medical organizations on efficacy, plus the references.  There is not a similar product available anywhere!

Here is a peek inside the book: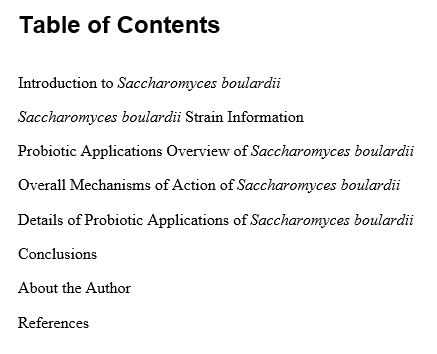 S. boulardii is a probiotic unlike any other. This ebook will show you everything you need to know to use Saccharomyces boulardii effectively for yourself and/or your clients.
I hope you will gain an appreciation for, and an understanding of, this unique probiotic by reading this book and using the information to better your health!

Here is where you can find S. boulardii products.
For suggestions on how to start taking it, go here.

To go back to the general page about Saccharomyces, see this page.

---
I research studies and share my clinical experience to write this free site to help you find solutions to your problems. As part of that, I recommend products and services that I genuinely believe will be of help to you. If you click on a link to a product/service, I may receive a small commission if you buy something. The item does not cost you more.

Thanks for visiting this site! If you've enjoyed reading this page or have found the information to be useful to you, please "like", tweet about it, or share it so others can benefit, too. You can leave comments below via Facebook or Disqus.

Comment with Disqus (including as a guest), Twitter or Google accounts:

If you are one of my many readers without a Facebook account, you can still comment.

---
Disclaimer: Please note: By law, I cannot provide any personalized recommendations for your specific health concern on this site. The information contained in this site is educational in nature and is not intended as diagnosis, treatment, prescription or cure for any physical or mental disease, nor is it intended as a substitute for regular medical care. Consult with your doctor regarding any health or medical concerns you may have.