Diarrhea: What is Causing Loose Stools and Can Probiotics Help?

Diarrhea can be caused by many things. It is your body's way of telling you that something is not right in your body. Instead of trying to stop the signals with medication, find out the cause(s) so you can choose the proper treatment.

Please note that this page is going to be a work in progress, so bear with me. My main incentive for posting it in its unfinished state is to alert people to the fact that loperamide, a commonly-used medication for loose stools, can cause severe heart rhythm problems or death and can interact with medications as this June 7, 2016 page and table from the US FDA June 7, 2016 website shows: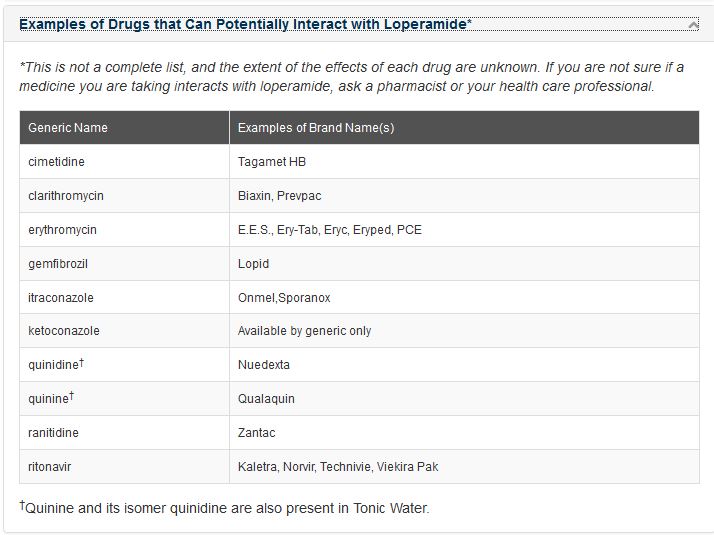 Serious Alert for Loperamide for Diarrhea

In addition to the drug interactions, the FDA announced on January 30, 2018, that reports of serious heart problems and deaths continue to be received because people are using dosages that are too high, whether accidentally or intentionally. Due to these reports, the FDA is working with manufacturers to use blister packs or single-dose packaging to limit the number of doses in a package.
According to the latest FDA release, "The maximum approved daily dose for adults is 8 mg per day for OTC use and 16 mg per day for prescription use. It is sold under the OTC brand name Imodium A-D, as store brands, and as generics. Loperamide acts on opioid receptors in the gut to slow the movement in the intestines and decrease the number of bowel movements. It is safe at approved doses, but when much higher than recommended doses are taken, it can lead to serious problems, including severe heart rhythm problems and death."
Some of the cardiac malfunctions include "serious cardiac adverse events, including QT interval prolongation, Torsades de Pointes or other ventricular arrhythmias, syncope, and cardiac arrest."
The moral of that story is to take only the recommended dosage in the recommended time frame. Do not overdose.
What Is Causing Your Diarrhea?

Note that loperamide works on the opioid receptors in the gut, yet affects the heart. This is an important point because it highlights the fact that what happens in your gut can affect other body parts. It also emphasizes that you don't need to target one specific kind of cell in your digestive tract with a drug to force your body to function properly. Nourishing food, clean water, movement, stress management and a balanced microbiome act on all the cells in your digestive tract to enable natural, proper, seemingly effortless functioning. You should not have to think about eliminating properly!
But what is causing your diarrhea?  That is the puzzle that needs to be solved so that your intestines and body can work as they were designed to work. This page is a work in progress so please stay tuned.

I research studies and share my clinical experience to write this free site to help you find solutions to your problems. As part of that, I recommend products and services that I genuinely believe will be of help to you. If you click on a link to a product/service, I may receive a small commission to support my efforts if you buy something. The item does not cost you more.

Thanks for visiting this site! If you've enjoyed reading this page or have found the information to be useful to you, please "like", tweet about it, or share it so others can benefit, too. You can leave comments below via Facebook or Disqus.

Comment with Disqus (including as a guest), Twitter or Google accounts:

If you are one of my many readers without a Facebook account, you can still comment.

---
Disclaimer: Please note: By law, I cannot provide any personalized recommendations for your specific health concern on this site. The information contained in this site is educational in nature and is not intended as diagnosis, treatment, prescription or cure for any physical or mental disease, nor is it intended as a substitute for regular medical care. Consult with your doctor regarding any health or medical concerns you may have.