How to Purchase Quality  Essential Oils
| | |
| --- | --- |
| | People need to know how to purchase quality essential oils that are pure and effective. There is so much junk in the marketplace. Yes, junk. You may think you are getting good oils because you are buying organic ones or because you buy them from your favorite health store or healthcare practitioner. I'm sorry to say that the likelihood is that what you are buying is junk. :( |
If you are new to essential oils or want to learn more about them, how to use them, and about research on them, please see this page.

Why I Chose the Company That I Did to Purchase Quality Essential Oils

As an author, educator, consultant, speaker, nutrition therapist and founder of PowerOfProbiotics.com, essential oils fit naturally into my idea of a healthy diet and lifestyle. After all, it doesn't make sense to eat nutritious food, stay hydrated, take probiotics, exercise, get adequate sleep, manage stress and nurture my friend and family relationships and then pollute my body with avoidable toxins from personal care and household products.

The toll on your health from everyday toxins is real, and reducing your exposure from some sources, like vehicle emissions, is not always possible. It is possible, however, to switch to health-enhancing products like essential oils and probiotics. You won't miss your old products or their toxins once you make the switch to essential oil personal and household care, and your health will be better for it. dōTERRA quality essential oils & products will support your other efforts to be healthy, not sabotage them like regular products.

I've been using essential oils for years, but never wanted to recommend a specific brand until I discovered dōTERRA. Their commitment to the purity of their oils, to the growers, harvesters and distillers of the plants, and to the communities around the world in which the plants are sourced is unmatched. I never knew that those cheap oils I was buying could be adulterated, have heavy metals, have microbial contamination, or be something else besides what was listed on the bottle. I did not know that those other oils were not 100% essential oils and could actually be doing me harm. With dōTERRA, I am assured that the oils are pure, responsibly sourced, and contribute to the wellbeing of the global communities involved. No toxins like herbicides, pesticides, or fillers; no contaminants; no microorganisms. Just pure essential oils with their desired therapeutic properties.

Regarding purity, dōTERRA' s oils are CPTG: certified pure therapeutic grade. This certification goes beyond organic. Organic essential oils may still be adulterated or be otherwise contaminated. CPTG oils are tested in-house by dōTERRA and then by a third-party to ensure that you are only getting 100% pure oil. The dōTERRA lab and trusted third-party labs employ the following tests to ensure that only the highest quality oils are approved for your use:

Organoleptic Assessment: An assessment of the appearance, color, and aroma of each oil
Specific Gravity: Verifies the purity and quality of each essential oil
Gas Chromatography/Mass Spectroscopy (GC/MS): Ensures that the chemistry of each oil matches the expected chemical profile
Fourier Transform Infrared Spectroscopy (FTIR): Analyzes an oil's material composition to make sure it meets dōTERRA standards
Optical Rotation: Can help to identify synthetic additives that do not show up on other tests
Refractive Index: Measures how light spreads through the oil to ensure it meets dōTERRA standards
Contamination Testing: Oils are tested for harmful contaminants, heavy metals, and potentially harmful microorganisms
Stability Testing: Helps to ensure that an essential oil will maintain its purity and efficacy for the length of its intended use
Does YOUR essential oil company do that? Buying from dōTERRA is a way to purchase quality essential oils.

Another reason I chose dōTERRA is because of their commitment to sustainability and worker welfare, plus their interventions in neglected communities around the world. You can read more about dōTERRA commitment to the growers, harvesters and distillers of the plants and to the communities around the world at the end of this webpage. I'm sure you will be proud to be part of a movement that is changing the world for the better. Using dōTERRA products is a win-win; you win because you are using pure, therapeutic oils and the people and communities involved in supplying the oils to you win because their quality of life improves.

Additionally, as a healthcare practitioner, I am thrilled that dōTERRA is partnering with medical institutions, medical professionals, and hospitals to bring the healing properties of essential oils into mainstream medicine. A dōTERRA healthcare facility opened in Utah in 2018 and incorporates essential oil therapies into its offering of services. dōTERRA essential oils are used at Vanderbilt Hospital's emergency room as aromatherapy to decrease the stress of patients and staff and improve the ambiance. Essential-oil aromatherapy is used at the Johns Hopkins Sidney Kimmel Comprehensive Cancer Center and in some ambulance services.

Many of my favorite essential oils support balanced microbiomes and blend in perfectly with my other efforts to be healthy. Essential oils and probiotics have several things in common, most importantly that neither works in a vacuum. Both are supplements to you other efforts to be healthy.

Pure essential oils are not woo-woo; they have science behind them and I'd love for you to join me in learning about and using them. The next section will tell you how to get started.

How to Purchase Quality Essential Oils and Save Money Doing It
By now you should see why purchasing quality essential oils from dōTERRA is a way to benefit yourself and the planet. You can purchase dōTERRA essential oils and other products as a retail customer (just click on the same link below to my dōTERRA site), but a better idea is to become a member of our community. You do not have to routinely purchase anything, although once you start with the products I'm sure you will love them. There are ways to qualify for free products and BOGO's, and I will show you that. You don't have to sell anything to anyone, unless you want to and I can help you with that.

When you open an account and become a member, you save 25% off retail PLUS you can earn free oils and products if you join their free rewards program, called the Loyalty Rewards Program, PLUS you are alerted to the BOGO (buy oil, get a second oil free) offers that dōTERRA announces a few times each year, PLUS you will get access to our community of support. I am in the LRP and receive a lot of free products when I redeem my points.

If you already have a dōTERRA account, you will be unable to open one with me. This is dōTERRA policy and I honor it. You will need to contact the person who first enrolled you as a member. If you've only been a retail customer, or have purchased the oils at retail price at a place such as a massage practice, chiropractor, etc., then you can sign up as a member with me. Please do not set up an account under your spouse's name if you already hold an account because that will be counted as a duplicate account.

You can become a member and realize the aforementioned benefits in two ways:

1. The best option is to purchase a kit because your first-year membership fee counts towards the kit. I recommend starting with the Home Essentials Kit. Why? The Home Essentials Kit has the 10 essential oils that form the foundation of essential oil use in generous 15 ml sizes, plus a diffuser. You will be ready to use your oils in the four different ways (aromatically, topically, internally and environmentally) as soon as the kit arrives. Here's what you get in the Home Essentials Kit: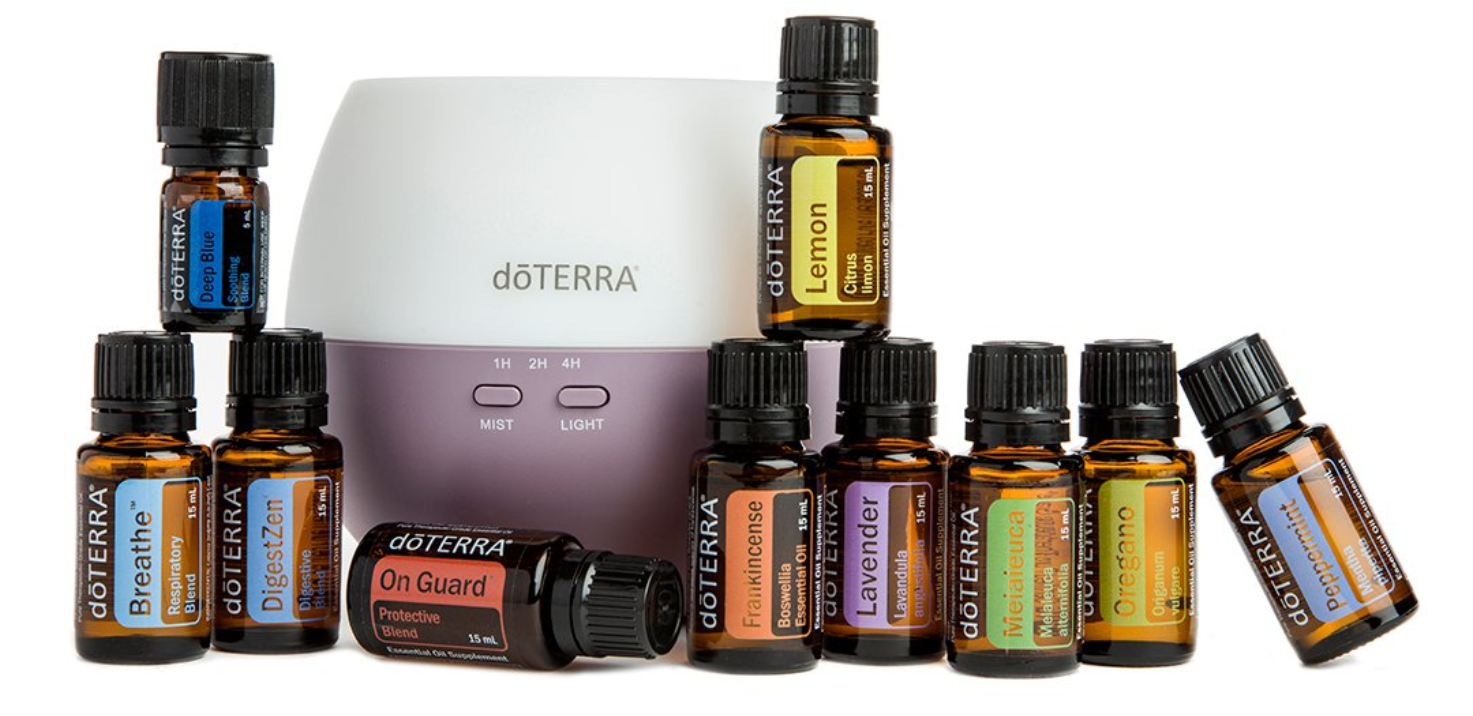 Peppermint: (15 ml) Cools body temperature, energizing, settles upset tummy.
Lemon: (15 ml) Detoxifying, no-tox cleaner, purifies air, great for focus, delicious in salad dressings.
Lavender: (15 ml) Calming to the nervous system, soothes irritated skin, promotes restful sleep. (I wrote a webpage about Lavender-Oil-and-Anxiety.)
Oregano: (15 ml) Nature's antibiotic!
Melaleuca: (AKA tea tree) (15 ml) Great for bites and stings, blemishes and can be used as an insect repellant.
Frankincense: (15 ml) Fights inflammation, incredibly beautifying and anti-ageing for the skin, promotes cellular regeneration.
Breathe: (15 ml) Respiratory blend, clears airways, great support for asthmatics, energizing.
Deep Blue: (5 ml)Apply topically for muscle and joint pain.
OnGuard: (15 ml) Protective blend - wards off bacteria, protects the immune system and loads the body with antioxidants. (I wrote about OnGuard and the flu in a newsletter and on the Probiotics-and-Flu webpage)
DigestZen: (15 ml) Digestive blend - promotes healthy digestion, settles heartburn, bloating, cramping and nausea.
Petal Diffuser:  Substantial mist output helps purify and humidify the air; 1, 2, and 4-hour diffuser settings; optional LED light; ultra-fine mist reaches up to 330 square feet; simple, 3-piece diffuser is easy and convenient to use; stable and light for home or office use
The dōTERRA Essentials Booklet to get you started with your oils.
You save a lot of money by buying a kit instead of buying the oils and diffuser separately and you'll be ready to use the oils!
Subsequent membership fees are only $25/year (although each time you renew dōTERRA sends you a free oil that is worth more than the membership fee).

2. The second option to become a member is with a $35 first-year membership fee followed by a $25/year fee (again, although each time you renew dōTERRA sends you a free oil that is worth more than the membership fee).
Here is How to Enroll as a New Member

Click on this link:  Jo's dōTERRA Page
Click "Join and Save"
Choose your country and language
Choose "Wholesale Customer"
Enter your personal information
At "Enroller ID" enter 3633094 (please double-check to make sure you entered it correctly)
Click "Verify" and you should see my smiling face with my name, Jo Panyko
Follow the instructions to enter a password and choose a kit. If you prefer not to order a kit and want to order individual oils, type in the names of the oils, one at a time, in the box and the options for the oils should appear. If you are not purchasing a kit you will need to select the $35 introductory offer, but if you order a kit, the $35 fee is waived.
Enter your payment information and how you want the order to be shipped. Then, process your order and your order will be shipped!
When your payment processes, you will be asked if you want to set up the free Loyalty Rewards Program. There is no obligation to do so, but if you want to get up to 30% back on your qualifying monthly order in credited points as time progresses plus shipping fee credit, this is the way to do it. You will accrue points to be redeemed whenever you choose for free products. You can read more about the LRP on the dōTERRA website.

If you decide to set up the LRP, select a shipment date before the 15th of the next month so that you can qualify for free products (if your PV point value is over 125). Then add some other products (don't worry, you can always come back before midnight before the ship date and edit what you put in your cart), and follow the rest of the instructions. Your credit card will NOT be charged for the next month's order until your selected ship date.

Again, you can read the details of the LRP on the dōTERRA website or contact dōTERRA support with your questions.

If at some point after enrollment you decide that you want to explore the business opportunities associated with dōTERRA, please let me know and I will help you with that.

Once your order processes, I will be in touch to help you make the most of your oils.

An idea for your second order is either the Emotional Aromatherapy™ Touch kit or the Emotional Aromatherapy System kit. Buying the blends as a kit is a cost-effective way to try out all the blends. You can find these and other kits under Products-Collections-Kits. I made the mistake of buying individual blends until I realized there were kits! You can always go back and edit your order until midnight before the day your order processes if you want more time to explore the options.
More about dōTERRA: Beyond Purity: dōTERRA's Commitment to People and the Environment
dōTERRA goes above and beyond what most companies do. From responsible sourcing to community support and involvement, dōTERRA makes it easy for me to make a positive difference in the world with my purchasing (and donation) dollars.

Responsible Sourcing: Co-Impact Sourcing
Co-Impact Sourcing develops long-term, mutually beneficial supplier partnerships while creating sustainable jobs and providing reliable income in underdeveloped areas. This means ethical treatment of suppliers by providing on-time payments at fair prices. Growers and harvesters are encouraged to form cooperative groups to share collective benefits and bargaining power while improving skills and capacity. This goes beyond fair trade pricing.

With over 130 essential oils in its product line from over 40 countries (with many of those being developing nations), dōTERRA works in a partnership with the growers to ensure that the best seeds, soil, equipment, and growing conditions are used in the oil production process. dōTERRA works with growers to efficiently, yet sustainably, produce their crops. In addition to allowing the plants to produce the best oils they can, the partnerships provide jobs for rural farmers who might otherwise experience unfair wages or poor working conditions. Many farmers and workers around the world are taken advantage of and Co-Impact Sourcing is one way to avoid that.

In addition to the importance and craftsmanship of the planting, growing, and harvesting portion of the essential process, distillation is important in preserving the strong aroma and therapeutic benefits of each essential oil. Partnering with professionals who know how important the production process is, who will never cut corners, and who are committed to producing quality essential oils, allows
dōTERRA to continually provide customers with products that are unique, pure, and safe.

dōTERRA Healing Hands Foundation™

The dōTERRA Healing Hands Foundation was created in June 2012 as an official 501(c)(3) non-profit organization. The foundation is one of the ways dōTERRA reaches out and serves communities in need. Through the sale of certain oils, such as the Rose Oil Lotion and Hope Touch, all proceeds of those products go directly to the Healing Hands Foundation. In addition, dōTERRA donates time, money and resources to humanitarian projects in the US and around the world.

The Hope Touch story is particularly powerful to me. The dōTERRA Hope Blend was released at the 2016 dōTERRA Convention, alongside the announcement that nonprofit organization Operation Underground Railroad (OUR Rescue) had been established as an official partner of the dōTERRA Healing Hands Foundation. OUR Rescue is dedicated to rescuing children around the world from sex trafficking and slavery. In 2016 alone, dōTERRA donated $500,000 to the organization.

OUR Rescue's Jump Team, consisting of former CIA, Navy SEALs, and Special Ops operatives, lead coordinated identification and extraction efforts to rescue children being trafficked for sex. To ensure perpetuity and sustainability of these extraction efforts, OUR Rescue works with law enforcement in the countries where they rescue children to ensure that everything is done legally and with the support of the local authorities.

The children rescued from these extraction efforts are then rehabilitated by OUR Rescue's aftercare program, and the perpetrators are arrested, tried, and convicted to ensure that they don't traffic children again.

The blend was originally manufactured solely for OUR Rescue to distribute to at-risk children. I think this is genius: The original oil label peeled-back to reveal a list of hotline numbers so that at-risk children could call for help.

Due to the high demand of the dōTERRA Hope Blend at its release, however, it was determined that this blend would be available for individual sale as well. Although the blend was repackaged for sale to remove the peel back feature, the original oil with the original label continues to be donated to OUR Rescue by dōTERRA to promote the efforts of their organization.

You can read more about the Healing Hands Foundation efforts here. If you don't see something that grabs your heart, you are welcome as a wellness advocate (which is a member involved in the business) to submit an application for funding of the cause close to your heart that you are personally involved in.
Ready to become involved as a member? Please go up on this page to the section about how to do that.

---
Return to page with general essential oils information.
Return to Homepage.

I research studies and share my clinical experience to write this free site to help you find solutions to your problems. As part of that, I recommend products and services that I genuinely believe will be of help to you. If you click on a link to a product/service, I may receive a small commission to support my efforts if you buy something. The item does not cost you more.

Thanks for visiting this site! If you've enjoyed reading this page or have found the information to be useful to you, please "like", tweet about it, or share it so others can benefit, too. You can leave comments below via Facebook or Disqus.

Comment with Disqus (including as a guest), Twitter or Google accounts:

If you are one of my many readers without a Facebook account, you can still comment.

---
Disclaimer: Please note: By law, I cannot provide any personalized recommendations for your specific health concern on this site. The information contained in this site is educational in nature and is not intended as diagnosis, treatment, prescription or cure for any physical or mental disease, nor is it intended as a substitute for regular medical care. Consult with your doctor regarding any health or medical concerns you may have.