Earths Pearl Probiotic - The "World's Best Probiotic" Supplement?

Earths Pearl Probiotic is a probiotic supplement containing 4 billion CFU's of 5 strains in a time-released spherical tablet. Its label claims it is "The World's Best Probiotic." It is marketed by a US company in Oregon to:

Promote colon health and regularity
Support healthy immune system
Be 15 times more effective than capsules
What Probiotic Strains are in Earths Pearl Probiotic?
The exact strains are not listed, but the species are:
They also offer
a children's version
with
L. acidophilus, L. plantarum
and
B. infantis.
What are the Other Ingredients in Earths Pearl Probiotic? 

The other ingredients at the time of this writing are 25 mg of FOS, microcrystalline cellulose, hydroxypropyl methylcullulose, pectin, stearic acid, sodium carbonate, guar gum, and turmeric (for color).  The stearic acid is a flow agent to make the tablets glide over equipment easier. The sodium carbonate is used to control the pH inside the tablet and around the disintegrating tablet in your intestine. The remaining ingredients in Earths Pearl Probiotic make up the time-release aspects of the tablet.

Please verify ingredients of any supplement prior to taking it!

What is the Recommended Dosage of Earths Pearl Probiotic?
The manufacturer's recommended dosage is 1 pearl daily at any time. For advanced immune health, up to 3 pearls may be taken daily at any time. The product is not meant to be crushed or chewed because that would invalidate the time-release aspect of it.

What are the Pros of Earths Pearl Probiotic? 

The pros of this probiotic supplement as I see them are:

Multi-species
Contains NO GMO strains, gluten, lactose, wheat, soy, eggs, shellfish, tree nuts, chemicals or artificial ingredients
365-day satisfaction guarantee
Shelf-stable below 70 degrees F.
Small swallowing size
Potency is guaranteed 18 months after the manufacturing date
Third-party verified
The Nutraceutix BIO-Tract® process uses time-release technology with the combination of hydrophilic (water-attracting) agents and pH control agents. Once the tablet encounters liquids in your stomach, it begins a slow breakdown process. Based on laboratory-simulated digestive conditions, the BIO-Tract® process is reported by Nutraceutix to deliver 60% of live, viable bacteria to the intestines instead of the alleged 4% for plain vegetarian capsules with no microbe encapsulation. Note that a digestion model was used and that your results may be different. Here is an image of that process: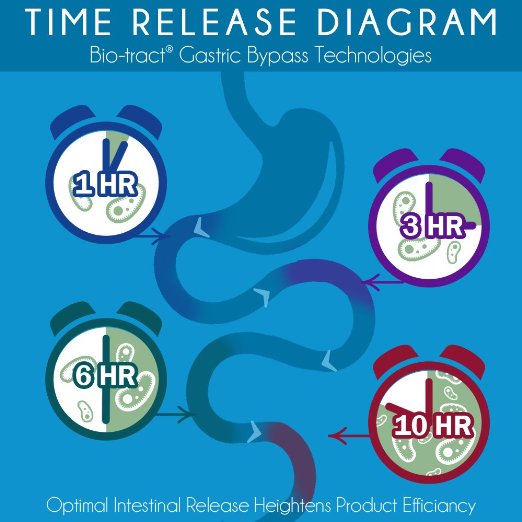 Putting the bacteria in tablet form reduces their exposure to air and moisture. Nutraceutix uses this technology for other supplements, too.
As of January, 2016, this product has 4.5 out of 5 stars for 813 customer reviews on Amazon.
Some helpful positive reviews from verified purchasers stated:

"I've suffered with "IBS" for years and have tried prescription drugs, herbal remedies, acupuncture, and a number of different brand probiotics. I am on a low FODMAP diet, which helped, but still had bloating, gas, and abdominal pain. This product has drastically improved my symptoms and seems to have regulated my GI system. I can't believe how much better I feel in the few weeks I've been taking this. As a customer and health care professional, I highly recommend this product!" 3/25/15

"…I usually take them every afternoon with my lunch (salad) and I have less digestive issues than I used to. My stomach doesn't make weird "I'm trying to digest all these vegetables" noises and I'm experiencing much less gas. Not sure if it's related or not, but I just had a cold that I got over quicker than normal and I'm thinking it may have something to do with the immune help from the probiotics. I haven't done anything else different.

The pearls are very easy to swallow and have no taste…" 1/15/15

What are the Cons of Earths Pearl Probiotic?
The cons of this lactic-acid bacteria probiotic supplement as I see them are:

Only the species are given; you don't know which strains are in the product since the information is proprietary. All you know is that they are supposed to be "power strains".

Only the total CFU is given; you don't know how much of each species is present.
Since neither the strains nor the amounts of each strain are listed, it is not possible to predict what effects this product will have. Lactobacillus and Bifidobacterium species, in general, do promote digestive and immune health.
It contains trace amounts of milk protein (allergy alert!)
This supplement contains FOS, fructooligosaccharides, a carbohydrate prebiotic to support the growth of the microbes, which may pose problems for some people even though it is at a very small amount.
As with most probiotic supplements, this one does best with refrigeration after it is delivered.
No studies with this supplement as a whole supplement have been performed to my knowledge. Note that this is not unusual, however. Very few multi-species probiotic supplements are used in studies. Instead, species and strains that are show to be effective are mixed together in most multi-species supplements such as this one. Whether or not the strains compete with each other in a laboratory setting is not known since we don't know which strains are in it.
Compared to other multi-species probiotic supplements, this one contains a lower number of total CFU of 4 billion per capsule. This amount may be suitable for some people as an introductory dosage to probiotics, but they may need higher dosages for effects. Other people may find this amount to be suitable for their needs.

Although third-party verification is stated, it is not known who does the verification.
Sold only online.
Some helpful negative reviews from verified purchasers stated:
"I took these for about five weeks (well into my second bottle) and didn't notice much change but because I take many medications for a neuro disease, I thought it would be a good idea to take a daily probiotic. After the five or so weeks past, I started doing a cleanse and these pills came out completely whole... Several of them at a time for days. Then I had days of what looked like "egg shells" in my stools and I finally figured out that it was the outside of these pills and they must have been stuck my intestinal wall for over a month's time. I discontinued taking them right away because clearly they weren't doing me any good..." 11/10/15

"I had no success with this product, unfortunately. It didn't help with regularity at all for me. I tried it for over a month, but they never worked. The pills are sphere shaped too, and I practicality choked on them daily. Very disappointing." 12/22/15


Where to Find Earths Pearl Probiotic?
This supplement is available from
Amazon.com
.
Is Earths Pearl Probiotic the Right Supplement for YOU?
If you would like help in deciding if this is the right probiotic supplement for you, you may consider nutritional consultations with me. This product is similar to Hyperbiotics PRO-15 in that it uses the BIO-Tract® technology from Nutraceutix, but the PRO-15 has 10 other species and a total of 15 billion CFU. Since BIO-Tract® is a patented process, I would guess that Nutraceutix actually does the manufacturing for Earths Pearl.

The claim that it is "The World's Best Probiotic Supplement" is a matter of opinion of the manufacturer, not fact.

Thanks to Becky for suggesting a review of this supplement!

One Other Note

If you decide to take this supplement, I would combine the health benefits of it with the benefits provided by:

A healthy diet and lifestyle

Probiotic-fortified food and drinks

---
Other Probiotic Supplement Reviews

To read about my approach to supplement reviews, and about my reviews of other probiotic supplements, click here.

---
Return to Homepage.

I research studies and share my clinical experience to write this free site to help you find solutions to your problems. As part of that, I recommend products and services that I genuinely believe will be of help to you. If you click on a link to a product/service, I may receive a small commission to support my efforts if you buy something. The item does not cost you more.

Thanks for visiting this site! If you've enjoyed reading this page or have found the information to be useful to you, please "like", tweet about it, or share it so others can benefit, too. You can leave comments below via Facebook or Disqus.

Comment with Disqus (including as a guest), Twitter or Google accounts:

If you are one of my many readers without a Facebook account, you can still comment.

---
Disclaimer: Please note: By law, I cannot provide any personalized recommendations for your specific health concern on this site. The information contained in this site is educational in nature and is not intended as diagnosis, treatment, prescription or cure for any physical or mental disease, nor is it intended as a substitute for regular medical care. Consult with your doctor regarding any health or medical concerns you may have.