Visbiome: Mega-Probiotic for IBS, UC, HE and Pouchitis. Do you need it?
Visbiome is a high-potency probiotic medical food intended for the dietary management of dysbiosis associated with IBS (irritable bowel syndrome), UC (ulcerative colitis), pouchitis, and hepatic encephalopathy (HE).

People wonder if it is worth the price, because it can be expensive. Read on because this page can help you decide.

Visbiome is sometimes used by physicians for Crohn's disease, but that is technically an "off-label" use (a prescription-drug term). It has been shown in a study to help prevent Crohn's in the early stages in mice, and a clinical trial was planned in children with Crohn's disease, but plans have not materialized as of this writing (late November, 2019).
It is produced by ExeGi Parma and is a product of the USA.

What Kind of Supplement is Visbiome?
Visbiome is a medical food, meaning:
It is supposed to be used to meet distinctive nutritional requirements of a disease or condition that cannot be met through diet alone
It is supposed to be used only under medical supervision, and
It is intended for the specific dietary management of a disease or condition
Medical foods are NOT drugs.

What Probiotics Are in Visbiome?

Visbiome is composed of 8 strains of lactic acid bacteria in certain ratios to produce a specific biochemical and immunological profile called the "De Simone Formulation":
S. thermophilus DSM 24731
B. breve DSM 24732
B. longum DSM 24736 (recently reclassified as B. lactis)
B. infantis DSM 24737 (recently reclassified as B. lactis)
L. acidophilus DSM 24735
L. plantarum DSM 24730
L. paracasei DSM 24733
L. delbrueckii subsp bulgaricus DSM 24734 (recently re-classified as L. helveticus)
Please note that the strains are grown using dairy ingredients.

How Does Visbiome Differ from VSL#3?
At first glance, Visbiome may seem to be the same product as VSL#3. In fact, Visbiome and VSL#3 contained the same proven probiotics and formulation before January 31, 2016. Now the two products are NOT the same, however, and a legal battle has settled that question.
The history, in a brief summary, is that Professor Claudio De Simone, MD, a researcher and clinician based out of Rome, Italy, created VSL, "Very Safe Lactobacilli", in high-strength formulas. The product was licensed to VSL Pharmaceuticals by Professor De Simone, and produced in an agreement with Danisco (now DuPont). VSL#3, the trademark owned by VSL Inc., was first marketed in the US in 2003.
As business agreements sometimes go, Professor De Simone terminated his relationship with VSL Inc. as a result of differing ideas about certain production requirements for the product. Professor De Simone blocked VSL Inc. from accessing his formulation and granted a new license to ExeGi Pharma. Since Professor De Simone never owned the trademark VSL#3, ExeGi Pharma could not use the same name, so in 2016 ExeGi Pharma launched the De Simone formulation as Visbiome.
VSL Inc no longer had any right to access the De Simone formulation produced at DuPont for ExeGi Pharma, but as court records show, a Maryland Federal jury in November, 2018 unanimously held VSL Pharmaceuticals Inc., Leadiant Biosciences Inc. and Alfasigma USA Inc. liable for false advertising for continuing to deceive patients, doctors, and other stakeholders by creating a "knock-off" product of Visbiome and referencing scientific studies based on Visbiome and not the new VSL#3 formulation.
The current VSL#3 does not have the same strains in the same proportions, nor is it cultured the same as Visbiome. Therefore, any studies with the product named VSL#3 prior to 2016 actually should be credited to Visbiome, and not VSL#3. Studies show that there are fundamental differences in both quantitative and performance characteristics in the two products. For more detailed information about the differences in formulations compared in a peer review journals, see the VSL#3 page.

Which Products Contain Visbiome?
At the time of this writing, Visbiome is available in three different products for humans and one for pets: (Please always check ingredients before purchasing or consuming as ingredients may change over time!)

| | |
| --- | --- |
| | Capsules in packs of 1, 2, or 4 bottles. These contain 112.5 billion CFU per capsule in 60-count bottles with microcrystalline cellulose, stearic acid, magnesium stearate, silicon dioxide, and vegetable capsule (hydroxypropyl methylcellulose) as the inactive ingredients. |
---
| | |
| --- | --- |
| | Unflavored packets of 30 containing 450 billion CFU per packet. The only other ingredient is non-GMO cornstarch. |
---
| | |
| --- | --- |
| | Extra-strength packets of 30 containing 900 billion CFU per packet dispensed by prescription only. Maltose and silicon dioxide are the other ingredients. |
---
Visbiome Vet is a high potency probiotic formula used to support normal inflammatory responses in the GI tract and to help maintain gut health in dogs.

A 2018 study  showed that it accelerated normalization of the intestinal microbiome in dogs with acute hemorrhagic diarrhea syndrome It is only dispensed by veterinarians and contains 112.5 billion CFU per capsule.

How Much Is Recommended?
Please note that consumers are supposed to be working with a physician for treatment with irritable bowel syndrome (IBS), ulcerative colitis (UC), pouchitis, and hepatic encephalopathy (HE). Follow your doctor's recommendations as to usage, but here are the guidelines from Visbiome for adults:


Here are the dosing recommendations from Visbiome for children:


When Can You Expect Results?
Some research has shown that the gut "was fully colonized" in 20 days. Individual results may vary.

What Does Research with Visbiome Show?
Visbiome is well-researched. There are advertised to be over 70 human clinical trials performed with it as a medical food in the dietary management of gastrointestinal and liver disorders, so trying to detail all of them would be a book in itself. In European studies the product is called Vivomixx, and in Korea it is known as the DeSimone Formulation.
Here is an overview of some of the results in adults:
Studies used from 225 billion CFU/day to 3600 billion CFU/day.
Visbiome can help to repair leaky gut to decrease the chances of bacterial translocation, food-particle entrance into circulation and inflammatory immune responses.
It can help in abdominal bloating, reduce gas and slow colonic time in patients with diarrhea-predominant IBS.
It has shown efficacy in ulcerative colitis, with and without drug therapy.
It has shown efficacy in pouchitis.
I believe that researchers are now trying to prove Visbiome's benefits by expanding their investigations into areas beyond its current medical-food conditions.
A 2019 study  on the antiviral activity of fecal water samples from HIV-infected patients treated with Vivomixx for 6 months showed increased CD4+ T-cell levels in the patients and increased inhibitory activity against HIV-1 in the fecal water samples.
A September, 2019 study as a randomized, placebo-controlled, single-blinded clinical superiority trial in 80 adult outpatients who were colonized with extended spectrum beta-lactamase-producing Enterobacteriaceae (types of infection-causing bacteria) was published. Results showed that the probiotic patients who received 2 packets twice daily of Vivomixx for 2 months had marginally better outcomes than placebo.
An October, 2019 published study of a pilot randomized controlled trial in adolescent prediabetes with 2 packets twice per day of Vivomixx for 4 months showed minor effect for fasting glucose at 1-month. Unfortunately, there was a high attrition rate and suboptimal compliance in this age group, so the study was not a good one from which to draw conclusions.
A November, 2019 study published on a placebo-controlled pilot trial in 13 autistic children aged 3-12 years who were on Visbiome for an 8-week crossover trial with a 3-week washout period showed that the probiotics were safe and suggested a health benefit in children with GI symptoms (Pediatric Quality of Life Inventory GI module) who retained Lactobacillus.
There are numerous double-blind, placebo-controlled trials planned for the future and sponsored in the US, Canada, Italy, and Spain (as of December, 2019) for HIV, Gulf War Illness, Autism Spectrum Disorders, and Cirrrhosis plus Spontaneous Bacterial Peritonitis. In the European trials, the product is called Vivomixx.
PROS of Visbiome, In My Opinion
Clinically-proven product, as a medical food should be. Instead of just testing each individual strain in laboratory studies and then combining them in a product, Visbiome combines tested strains but also has studies with it as a whole product.
Multiple species, as research shows it takes a village of probiotic organisms to be healthy
Species are proven to inhabit the intestinal tract during usage, and this product supplies the high amounts of bacteria needed to at least temporarily colonize and positively affect the GI tracts of IBS, ulcerative colitis and ileal-pouch patients.
These species do not translocate from the intestines or act opportunistically when given to animals suffering from colitis. Thus, out-of-gut infections with Visbiome are not expected.
Live freeze-dried lactic acid bacteria
Super-high potency
Vegetarian capsule
Gluten-free capsules and powders
Non-GMO cornstarch in the unflavored powder, and nothing else is GMO in any of their products according to their medical information department.
Visbiome's probiotic species have GRAS (generally recognized as safe under the conditions of their intended use) status in the US.
Visbiome Extra Strength is Kosher and Halal certified.
Shipped and stored cold. If stored under refrigeration (36-46°F or 2-8°C), these products are guaranteed through the "Best if used by" date, not the manufactured date. Packets share the same guarantee if unopened.
Shipped in an insulated container with refrigerated packs and a temperature monitoring device to indicate if the product experienced abnormal temperature deviations briefly, moderately, or prolonged exposure above 86 degrees F (30 degrees C).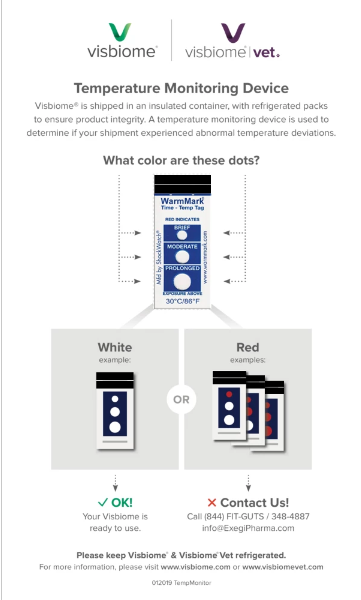 CONS of Visbiome, In My Opinion
Expensive (but some insurances may cover it)
Daily consumption of high levels of this supplement is needed to maintain adequate and balanced bacterial effectiveness. You can't take it sporadically. (But then again, daily consumption of probiotics is a good idea in most cases anyway.)
Not dairy-free. Might contain traces of lactose [less than 0.1g per 100g] and dehydrated skim milk or milk protein (casein and beta-lacto globulin of less than 2mg/Kg).
Packets contain cornstarch.
Definitely requires refrigeration. It can be stored at room temperature (77°F) for up to one week without having a major effect on potency, but after that or if exposed to high temperatures, the number of beneficial bacteria can become significantly reduced.
Like any probiotic, this one can cause bloating and gas when it is first being used until the body and flora adapt to the changes. Because all the forms of the product are so highly potent, it can be difficult to "ease into" taking this high-dose supplement. You might have to weather some discomfort until your intestines get used to the new environment, but you should alert your doctor to any bloating.
Visbiome is not 100% effective for everybody...But then again, is anything?
Where to Buy Visbiome?
Your local pharmacy may carry the non-prescription products.
You can also purchase the products from Amazon.com  (which has multiple-package options, is shipped in the cooler with ice packs and the temperature monitor, and is sold by Visbiome there, NOT from resellers) or from the Visbiome website, which also has multiple-package options.
Obviously, the prescription product is only available with a prescription from your doctor.

---
Return to the main page for probiotic supplement reviews.
Return to Homepage.

I research studies and share my clinical experience to write this free site to help you find solutions to your problems. As part of that, I recommend products and services that I genuinely believe will be of help to you. If you click on a link to a product/service, I may receive a small commission to support my efforts if you buy something. The item does not cost you more.

Thanks for visiting this site! If you've enjoyed reading this page or have found the information to be useful to you, please "like", tweet about it, or share it so others can benefit, too. You can leave comments below via Facebook or Disqus.

Comment with Disqus (including as a guest), Twitter or Google accounts:

If you are one of my many readers without a Facebook account, you can still comment.

---
Disclaimer: Please note: By law, I cannot provide any personalized recommendations for your specific health concern on this site. The information contained in this site is educational in nature and is not intended as diagnosis, treatment, prescription or cure for any physical or mental disease, nor is it intended as a substitute for regular medical care. Consult with your doctor regarding any health or medical concerns you may have.