iFlora Multi-Probiotic Supplement- Multiple Pros and Cons to Consider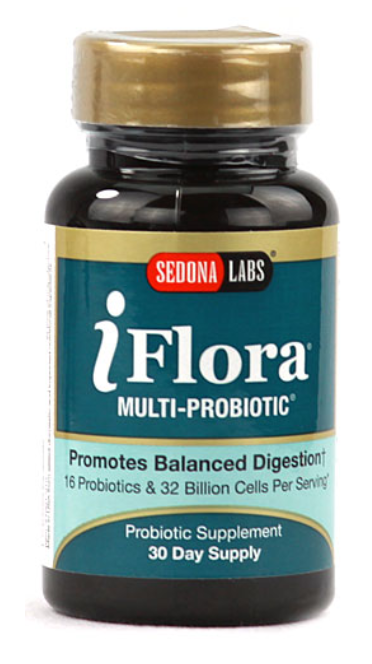 iFlora Multi-Probiotic is a multi-species probiotic supplement marketed by Sedona Labs. It contains 16 different probiotic strains and 32 billion CFU per serving of 2 capsules AT TIME OF MANUFACTURE. No refrigeration is required (although I would advise you to refrigerate it.)
This iFlora supplement is marketed to:
Promote balanced, regular digestion and healthy bowels
Support a strong and healthy immune system
Help alleviate occasional diarrhea and constipation
There's nothing new in those marketing ideas because that's what most probiotics do. However, nearly every probiotic supplement (including iFlora Multi-Probiotic) can only advertise general health benefits, not make specific health claims.
That's where this website can help you because, when possible, I'll help you decipher the ingredients and show you what research backs up the claims.
What's in iFlora Multi-Probiotic?

The 16 listed bacteria are:
Bifidobacterium breve
Lactobacillus gasseri
Lactoacillus paracasei
Lactobacillus salivarius
Lactococcus lactis
Streptococcus thermophilus

Other ingredients in the iFlora Multi-Probiotic capsules at the time of this writing are:
NutraFlora scFOS (see more info below)

Pregelatinized starch (Possible corn allergy/sensitivity alert! According to a Sedona Labs rep, it is non-GMO corn)

Microcrystalline cellulose
Calcium silicate
Colloidal silicon dioxide
Vegetarian capsule of cellulose and water
It also comes in a powder form.

Pros and Cons of iFlora Multi-Probiotic as I See Them
Sedona Labs formulates and distributes their supplements in-house. Their manufacturing facilities are FDA-certified, are registered with NSF Food Manufacturing Practices and are ISO 9001 Certified Laboratories accredited. Additionally, Sedona Labs products are independently tested for quality assurance. (I think you can feel confident that this probiotic supplement is of high quality.)

The 16 probiotic bacteria in this supplement are all mixed in a proprietary blend. As such, you don't know how much of each bacterium you are getting. So you don't know if they are at levels high enough to be therapeutic for your conditions.

The only known strain is

Bifidobacterium lactis

HN019

, and you don't know how much of that or any of the other bacteria are included. However, if there is enough HN019, then the researched benefits of it may apply to this iFlora supplement.




However, since

it takes a village of microbes to be healthy

, this probiotic supplement does deliver a variety of bacteria, even if the average amount of each bacteria in a serving is only 2 billion CFU (32 billion divided by 16 kinds of bacteria).

The 32 billion CFU are guaranteed at the time of manufacture, not at the end of the shelf life. So if this probiotic supplement is exposed to high temperatures or humidity, you may open it for the first time and have less than 32 billion CFU. I like to know how many microbes are supposed to be left when I take the last dose of a probiotic supplement, not how many were there when it was first manufactured.


Marketing materials say that all strains survive stomach acid to reach the intestines (that's good.)

Marketing materials also say that it is shelf-stable. Although I almost always recommend that you refrigerate probiotics, the statement that it is shelf-stable lets you know it should be fine out of the refrigerator and in indoor temperatures for short periods of time.

This probiotic comes in capsule and powder forms. The powder form can be mixed in cool liquids or cool soft foods such as applesauce or yogurt.

NutraFlora scFOS serves as food for the bacteria in the beginning part of your colon (for the most part.) An unknown amount is added as a prebiotic. NutraFlora scFOS is a short-chain fructooligosaccharide, a short-chain of predominantly fructose molecules derived from cane or beet sugar (fructose intolerance alert!). Some people have gastrointestinal reactions to this FOS.
A concern to me personally is: what is NOT in it is NOT listed. Especially for clients, I like to know if a product is gluten-free, is dairy-free, is soy-free, etc. I like to see that mentioned right on the label so they know that they are safe. According to the Sedona Labs rep, the product tests negative for gluten, dairy and soy, but they will not say it is 100% free of those things. Of course, saying something is "gluten-free" doesn't always mean it has no gluten in it, but just that the amount is less than standard measurements. If you are sensitive to any of those ingredients, you will have to decide if this product is right for you.

So Should You Take iFlora Multi-Probiotic?
Is this probiotic supplement the best probiotic for you? You have to look at the different bacteria included, the other ingredients, and the dosage and see if it might fit your needs. Nutritional consultations can help with your decision.

If you look at reviews from many sites, you will see that many people love this supplement. The "yays" outnumber the "nays".

Some of the reviewers wrote:
"…it sure helps with the bloating and excessive intestinal gas; I grasped just how much it works when I finished the bottle. I was miserable for two weeks then I realized it might be that I wasn't taking the i-flora any longer. Sure enough, after a few days back on I was noticing the difference."
"I have had digestive issues in the past and I started using this product years ago. It works wonders. My system is much better, I am better able to handle and digest foods now. I don't like or trust other product I've tried as I found them ineffective but after a few weeks on iFlora, I was doing much better."
"I take it once a day, and my IBS symptoms improved considerably."

Where Can You Buy It?
You can buy Sedona Labs iFlora Multi-probiotic capsules
from my online dispensary, along with other quality products, at a discount.
or
---
Here are my reviews of other probiotic supplements.

---
I research studies and share my clinical experience to write this free site to help you find solutions to your problems. As part of that, I recommend products and services that I genuinely believe will be of help to you. If you click on a link to a product/service, I may receive a small commission to support my efforts if you buy something. The item does not cost you more.

Thanks for visiting this site! If you've enjoyed reading this page or have found the information to be useful to you, please "like", tweet about it, or share it so others can benefit, too. You can leave comments below via Facebook or Disqus.

Comment with Disqus (including as a guest), Twitter or Google accounts:

If you are one of my many readers without a Facebook account, you can still comment.

---
Disclaimer: Please note: By law, I cannot provide any personalized recommendations for your specific health concern on this site. The information contained in this site is educational in nature and is not intended as diagnosis, treatment, prescription or cure for any physical or mental disease, nor is it intended as a substitute for regular medical care. Consult with your doctor regarding any health or medical concerns you may have.